Check out the official trailer of "En los márgenes"!

Added new photos of Penélope Cruz filming "Ferrari" on August 04. Check them out!
Gallery Links
Film Productions > Ferrari (2023) > On Set Photos > On the set [04.08.2022]
Here's your first look at Oscar winner Penelope Cruz in Italian drama L'immensita, which is in post-production.
Emanuele Crialese's film is set in 1970's Rome. The Borghetti family has just moved into one of the many freshly-built apartment blocks in the city. Despite the beautiful, sweeping views of the city from their top floor apartment, the family is not as close as they once were. Clara (Cruz, who speaks Italian) and Felice (Vincenzo Amato) are no longer in love, but are unable to leave each other. Clara finds refuge from her loneliness in the shelter of her special relationships with her three children. The oldest, Adriana, an unknown child in their new neighborhood, deliberately presents as a boy to the neighborhood children, pushing the family's bond towards breaking point.
Pathé is continuing sales on the Italian-language film at this week's virtual EFM. Pic is produced by Mario Gianani and Lorenzo Gangarossa for Fremantle's Wildside with Dimitri Rassam for Chapter 2. Warner Bros Italia is also co-producing and will distribute the film in Italy. France 3 Cinéma and Pathé are also co-producing in France, and Pathé will release the film in France and Switzerland. Writers are Crialese, Francesca Manieri and Vittorio Moroni Crialese previously directed Respiro, which won the Grand Prix at Cannes' Critics Week, as well as Nuovomondo and Terraferma, which won the Silver Lion and Special Jury Prize at Venice, respectively. Cruz last week scored a Best Actress Oscar nomination for her role in Pedro Almodovar's Parallel Mothers. It was the Spanish actress's fourth Academy Award nomination.
Heat director Michael Mann is getting closer to the start line on his passion project Ferrari thanks to some strong new cast and a big domestic deal with STX. We can reveal that Oscar nominee Adam Driver, Oscar winner Penélope Cruz and Emmy nominee Shailene Woodley are newly aboard for the big-budget biopic of racing mogul Enzo Ferrari.
Star Wars and House Of Gucci actor Driver is replacing Hugh Jackman in the title role while Parallel Mothers star Cruz will play Enzo's wife Laura. Big Little Lies star Woodley will play mistress Lina Lardi. Four-time Oscar nominee Mann is gearing up for a May start in Italy.
STX is handling International rights and has now picked up domestic in a big deal with Mann. As we revealed in previous reporting on the project, Amazon is aboard in a handful of international markets. STX International will look to close remaining deals this week with some big international pacts already secured, including Leone in Italy. The movie, which Mann has been working on for two decades, is set during the summer of 1957. Ex-racecar driver, Ferrari, is in crisis. Bankruptcy stalks the company he and his wife, Laura, built from nothing ten years earlier. Their tempestuous marriage struggles with the mourning for one son and the acknowledgement of another. He decides to counter his losses by rolling the dice on one race – 1,000 miles across Italy, the iconic Mille Miglia.
Parallel Mothers has been nominated for two Academy Awards, including Best Actress in a Leading Role—Penélope Cruz, and Best Original Score—Alberto Iglesias.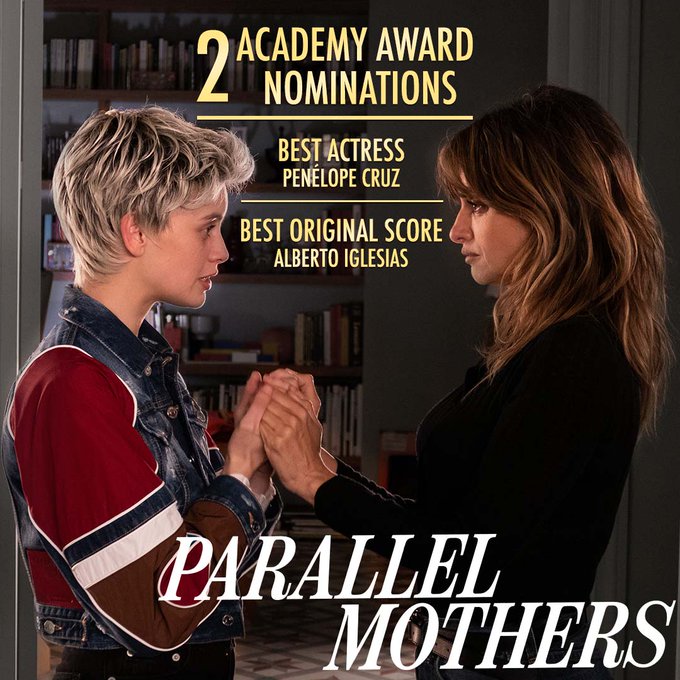 The gallery has been updated with HD screen captures of Penélope Cruz in "The 355". Thanks to Manon for the amazing screen captures! Enjoy them!
Gallery Links
Film Productions > The 355 (2021) > Screen Captures
The gallery has been updated with HD screencaptures of Penélope Cruz in "Madres Paralelas". Enjoy them!
Gallery Links
Film Productions > Madres Paralelas (2021) > Screen Captures
The Feroz Awards, given by the Spanish Association of Cinematographic Informers, announced this midday the nominees in its 17 categories for the gala to be held at the Auditorio de Zaragoza on January 29. 
Pedro Almodóvar's drama about historical memory, "Parallel Mothers", has eight nominations (in addition to dramatic film and directing for Almodóvar, best actress for Penélope Cruz and supporting actor for Aitana Sánchez-Gijón and Milena Smit), the same as Iciar Bollaín's Maixabel. Libertad, Clara Roquet's debut feature film, has four -dramatic film, direction, screenplay and poster-, followed by El amor en su lugar, by Rodrigo Cortés and Tres, by Juan Giménez, with three. La abuela, Chavalas, Las leyes de la frontera, El sustituto and La vida era eso start with two each. Seis días corrientes, by Neus Ballús, starts with a nomination for comedy film, a category that also includes Chavalas, by Carol Rodríguez Colás (with which Carolina Yuste aspires to best supporting actress); El cover, by Secun de la Rosa; and Un efecto óptico, by Juan Cavestany.
Added new on the set pictures of Penélope Cruz filming her new film "En los márgenes" on November 22. Enjoy them!
Gallery Links
Film Productions > En los márgenes (2022) > On the set [22.11.2021]

 Principal photography has begun on Penélope Cruz drama On The Fringe (En Los Márgenes), directed by Juna Diego Botto, and written by Botto and Olga Rodríguez.
Currently filming on location in Madrid, the Spanish-language film stars an ensemble cast which includes Oscar winner Cruz (Pain and Glory), Luis Tosar (Miami Vice), Aixa Villagrán (Loco Por Ella), Adelfa Calvo (Madres Paralelas), Nur Levi (Hablar) and Christian Checa. Told over the course of one day, the movie will follow interweaving stories, including that of a woman (Cruz) who has 24 hours to prevent herself and her family being evicted from their home by a bank intent on repossessing it. Cell 211 star Tosar will play a passionate lawyer and activist.
The film is a Spanish-Belgian co-production and is produced by Cruz and Álvaro Longoria for Morena Films. The duo recently teamed up on Asghar Farhadi's Cannes title Everybody Knows. Co-producers are Amazon Prime Video and RTVE with the support of Ayuntamiento de Madrid. Spanish distribution will be handled by Squirrel Media's film distribution arm, Vértice Cine, which will release theatrically. Amazon Prime has first window rights in Spain after the theatrical bow.
Bankside Films is handling international sales rights, with Stephen Kelliher and Sophie Green of Bankside Films serving as executive producers. Bankside will continue to sell the film at next week's virtual AFM. The film marks actor Juan Diego Botto's directorial debut after recent performances in movies including The Suicide Squad and Netflix series White Lines.
1
2
Next »